Description
There are many different ways to use this Measuring Folding Ruler to save your time. It will come with an instruction that can bring you more inspiration. This tool will speed up your future project and save your money and time in different scenes!
Reasons To Add This  In Your Toolbox:
Easy to Use
Simply form the 4-sided Multi-Angle Measuring Ruler to fit the space you measure and then tighten the screws to lock the multi angle ruler in place. If you need to measure any curves, best to use the Flexible Curve Ruler.
Small but Durable Design
With a ruled length of 10 in x 6 inches and total length of 12 in, flexible and as portable as possible. Made of ultra light stainless steel aluminum, with laser printing, so that the total weight is slightly over half a pound.
The Multi-Angle Measuring Ruler Template Tool: 
Handy personal and professional tool for cutting and stenciling specialized shapes in various materials, such as: wood, brick, tiles and countertops. Its four slotted rulers can move and lock into any position to become a customized stencil in minutes.
For Any Material and Application:
We are proud to provide carpenters, craftsmen, architects and any DIY handymen with this great addition to your toolbox. Our non scratch four-sided instant angle ruler can create specialized angles/shapes for tile, brick, stone, wood, laminate, and any other materials for endless applications. The Angle Measurement Tool, makes an awesome gift!
How to Use
1. Place the ruler in the specific position and tight all the knobs;
2. Adjust the position locator to fit the hole you want to slot;
3. Move the definite-shaped ruler and locator to the target places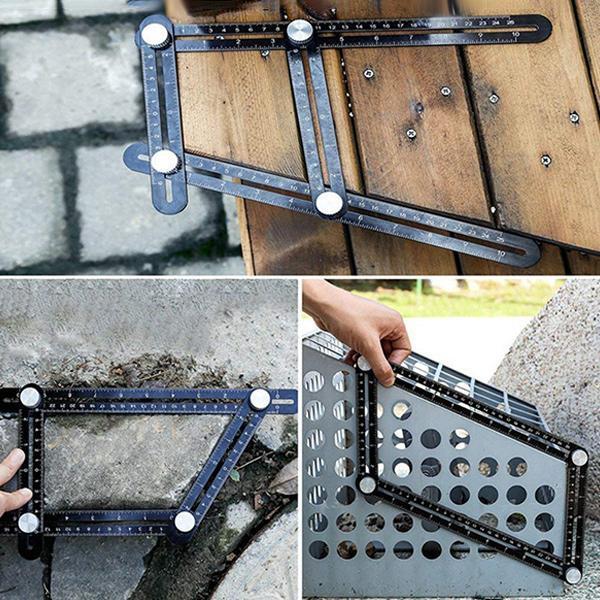 Specifications:
Color: Black.

Weight: 230g.

Size: 

31 x 5.5 x 2.6cm.

Material:

 Aluminum alloy and plastic. 

The total length of each ruler is 17.5cm, and the scale is 12cm.
Package Include:
1 x Multi-Angle Measuring Folding Ruler.